FOURTH SUNDAY OF ADVENT OF THE YEAR A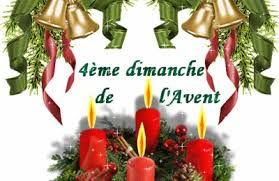 TEXTS: Isa 7, 10-16 / Ps 23 (24), 1-6 / Rom 1, 1-7 / Mt 1, 18-24
PREACHER: Rev. Fr. Martin KOTCHOFFA, SVD
THEME: The truth in charity
Beloved, selfishness often prompts us not to care about the well-being of others. What others feel or endure because of our actions makes us neither hot nor cold. In fact, as long as we believe that we are right, we don't care about whatever others can live because of our thoughtless words, actions and gestures. Joseph in today's gospel teaches us the opposite. He notes that Mary is pregnant though they have not yet known each other. This child is not his. He knows what the law says. It is within his right to have Mary stoned publicly. But instead of dragging Mary into the mud Joseph wants to protect her image. He doesn't want to see her suffering. He does not want her human dignity to be flouted. Joseph decides to act towards Mary as God acts towards us who are sinners. He does not judge Mary, he does not condemn her either. In a world where the fall or weakness of others is a golden opportunity to ridicule them, such an attitude of Joseph seems old-fashioned. If we were at his place, nowadays, Mary's name would already have gone around social networks with nasty comments. Beloved, whatever the error or the fault of others, we are called to listen to them, to understand them and to not tarnish their image or flout their human dignity.
Unfortunately, in our communities, companies, associations, etc. we use our positions to dirty the names of others. We use our authority to say what we want and how we want to others without even worrying about the state in which they will be. We are creating wounds in the lives of countless people. It must end today!
Beloved, if today you hear the voice of the Lord inviting you to the truth in charity, harden not your heart. Amen
FRENCH VERSION
THEME: La vérité dans la charité
Bien-aimé(e)s, l'égoïsme souvent nous pousse à ne point nous soucier du bien-être de l'autre qui est en face de nous. Ce que l'autre ressent ou endure à cause de nos actions ne nous fait ni chaud ni froid. A vrai dire tant qu'on se croit dans nos droits on se moque complètement de ce que l'autre peut vivre à cause de nos paroles, faits et gestes irréfléchis. Joseph dans l'évangile d'aujourd'hui nous enseigne le contraire. Il constate que Marie est enceinte pourtant ils ne se sont pas encore connus. Cet enfant n'est pas de lui. Il sait bien ce que la loi dit. Il est dans son droit de faire lapider publiquement. Mais au lieu de trainer Marie dans la boue Joseph veut protéger son image. Il ne veut pas la voir souffrir. Il ne veut pas que sa dignité humaine soit bafouée. Joseph décide d'agir envers elle comme Dieu agit envers nous qui sommes pécheurs. Il ne juge pas Marie, il ne la condamne pas non plus. Dans un monde où la chute ou faiblesse de l'autre est une opportunité en or pour le/la ridiculiser, une telle attitude de Joseph semble démodée. On serait à sa place, de nos jours, le nom de Marie aurait déjà fait le tour des réseaux sociaux avec des commentaires qui sortent de l'ordinaire. Bien-aimé(e)s, quelque soit l'erreur ou la faute de l'autre nous sommes appelés à l'écouter, le comprendre et ne point ternir son image ni bafouer sa dignité humaine.
Hélas dans nos communautés, entreprises, associations, etc. on se sert de nos positions pour salir le nom des autres. On use de notre autorité pour dire ce qu'on veut et comme on veut à l'autre sans même nous soucier de l'état dans lequel cette personne sera. Nous créons ainsi des blessures dans la vie d'innombrables personnes. Cela doit finir aujourd'hui !
Bien-aimé(e) si aujourd'hui tu entends la voix du Seigneur t'invitant à la vérité dans la charité, n'endurcis pas ton cœur. Amen