THIRD SUNDAY OF ADVENT OF THE YEAR A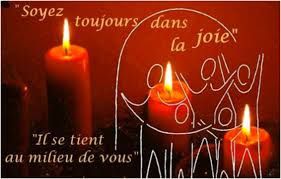 TEXTS: Isa 35, 1-6a. 10 / Ps 145 (146), 7-10 / Jas 5, 7-10 / Mt 11, 2-11
PREACHER: Rev. Fr. Martin KOTCHOFFA, SVD
THEME: Be fill with joy, the Lord comes to set you free
Beloved, in a world where suffering is growing, where the weak is always wrong, where the voiceless have only tears for consolation, God who does not want to remain deaf to such suffering, wants to come and put things in order. That is why the prophet Isaiah tells us: "Strengthen the weak hands, and make firm the feeble knees. Say to those who are of a fearful heart, 'be strong, do not fear! Here is your God. (…) He will come and save you' '' (Is 35, 3-4). And this promise finds its fulfillment in today's gospel through Jesus' response to John's messengers. He said, "Go and tell John what you hear and see : the blind receive their sight, the lame walk, the lepers are cleansed, the deaf hear, the dead are raised, and the poor have good news brought to them." (Mt 11, 4-5).
It is the same promise that is about to be fulfilled for us too, who are waiting for the coming of the Messiah to free us from all kind of oppression and bitterness. For this to happen, we need to exercise a little bit of patience until the coming of the Emmanuel. This is Saint James' recommendation for us in second reading. And during this time of patience our challenge would be to learn to open our hearts to welcome with dignity the one who comes to save us.
Beloved, this imminent coming of the messiah to rebuild our lives and restore us must provoke in us joy and motivate us not to lose hope in the midst of all the sufferings that we going through.
Beloved, if today you hear the voice of the Lord telling you that He is coming to save you, harden not your heart. Amen
FRENCH VERSION
THEME: Sois dans la joie, Dieu vient te libérer
Bien-aimé(e)s, dans un monde où la souffrance est grandissante, où le faible à toujours tort, où les sans voix n'ont que les larmes pour consolation, Dieu qui ne veut pas rester sourd à de telles souffrances, veut venir remettre les pendules à l'heure. C'est pour cela que le prophète Isaïe nous dit : « fortifiez les mains défaillantes, affermissez les genoux qui fléchissent, dites aux gens qui s'affolent : ''soyez forts, ne craignez pas. Voici votre Dieu (…) il vient lui-même et va vous sauver'' » (Is 35, 3-4). Et cette promesse trouve son accomplissement dans l'évangile d'aujourd'hui à travers la réponse de Jésus aux envoyés de Jean. Il dit : « Allez dire à Jean ce que vous entendez et voyez : les aveugles retrouvent la vue, et les boiteux marchent, les lépreux sont purifiés, et les sourds entendent, les morts ressuscitent, et les pauvres reçoivent la Bonne Nouvelle. » (Mt 11, 4-5).
C'est cette même promesse qui est sur le point de s'accomplir pour nous aussi, nous qui attendons la venue du messie pour nous libérer de toutes oppressions, de toutes amertumes. Pour ce faire on a besoin d'exercer un peu de patience en attendant la venue de l'Emmanuel. C'est la recommandation de saint Jacques pour nous dans la deuxième lecture. Et durant ce temps de patience notre défi serait d'apprendre à ouvrir notre cœur afin d'accueillir dignement celui qui vient nous sauver.
Bien-aimé(e)s, cette imminente venue du messie pour refaire nos vies et nous restaurer doit provoquer en nous de la joie et nous motiver davantage à ne point perdre espoir face à tout ce que nous traversons.
Bien-aimé(e), si aujourd'hui tu entends la voix du Seigneur te disant qu'il vient pour te sauver n'endurcis pas ton cœur. Amen