SECOND SUNDAY IN ORDINARY TIME OF YEAR A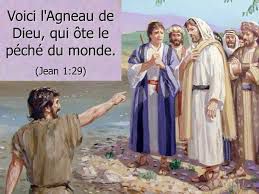 TEXTS: Isa 49, 3.5-6 / Ps 39 (40), 2. 4. 7-11 / 1Cor 1, 1-3 / Jn 1, 29-34
PREACHER: Rev. Fr. Martin KOTCHOFFA, SVD
THEME: Be the light in your living environment
Beloved in the Lord, after his baptism Jesus reveals himself as the lamb of God. Jesus is not only this servant who comes to raise us from our sins but he is also and above all a reference of life for us, the light of the nations. Jesus therefore comes to lighten our lives. So, as his disciples, it is our duty to become the light in our living environment. We must be role models for others. Our attitude must reflect that of a disciple of Christ and transform our world. Unfortunately, many of us do not allow Christ dwell in their heart in order to illuminate them so that they become lights wherever they live. And it is very sad that the world does not take us as models of life to follow. It is therefore a challenge which is thrown to us today as disciples of Jesus. We must imperatively live our Christian life in the light of the gospel in order to become models of life to follow within our world.
Beloved, if today you hear the voice of the Lord inviting you to become the light in your living environment, harden not your heart. Amen
FRENCH VERSION
THÈME: Sois lumière dans ton milieu de vie
Bien-aimé(e)s dans le Seigneur, après son baptême Jésus se révèle comme l'agneau de Dieu.
Jésus n'est pas seulement ce serviteur qui vient nous relever de nos péchés mais il est aussi et surtout une référence de vie pour nous, la lumière des nations. Jésus vient donc éclairer notre vie.
Ainsi, en tant que ses disciples, il est de notre devoir de devenir lumière dans notre milieu de vie. Nous devons être des modèles de vie pour les autres. Notre attitude doit refléter celle d'un disciple du christ et transformer notre monde.
Hélas, beaucoup parmi nous ne laissent pas le Christ demeurer en eux pour les illuminer afin qu'ils deviennent lumières là où ils vivent. Et c'est bien triste que le monde ne nous prenne pas pour modèles de vie à suivre.
C'est donc un défi qui nous est lancé aujourd'hui en tant que disciples de Jésus. Nous devons impérativement vivre notre vie chrétienne dans la clarté de l'évangile afin de devenir au sein de notre monde des modèles de vie à suivre.
Bien-aimé(e), si aujourd'hui tu entends la voix du Seigneur t'invitant à devenir lumière dans ton milieu de vie, n'endurcis pas ton coeur. Amen