TWENTY SEVENTH SUNDAY IN ORDINARY TIME OF THE YEAR C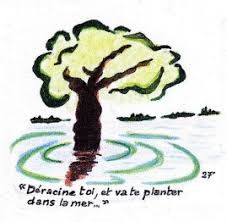 TEXTS: Ha 1, 2-3; 2, 2-4 / Ps 94 (95), 1-2. 6-9 / 2Tm 1, 6-8. 13-14 /
Lk 17, 5-10
PREACHER: Rev. Fr. Martin KOTCHOFFA, SVD
THEME : Lord, increase my Faith
Beloved the letter to the Hebrews tells us that " Now faith is the assurance of things hoped for, the conviction of things not seen" (Heb 11, 1). And that is why Jesus tells us in the gospel that: " If you had faith the size of a[a] mustard seed, you could say to this mulberry tree, 'Be uprooted and planted in the sea,' and it would obey you."(Lk 17: 6) This means that if we are nourished by such a will, then whatever the obstacles that will stand in our way, we have the capacity to overcome them by already seeing in them opportunities. In other words, the idea that we have of something is exactly what happens to us! Faith in Jesus should then be a means for us to see ourselves victorious in all circumstances because with him, we are told by the Scriptures, we will perform feats. It is this conviction that will be our strength at all times and places and in every situation of our life.
In order to have such a conviction the apostles of Jesus tell him: "Increase our faith" (Lk 17: 5). It is also for them an acknowledgment of their weakness, their lack of endurance, their lack of patience and their difficulty in persevering in the ordeal. They believe in Jesus but not enough to hold firm until the end of the test. Their faith in Him is not strong enough to affirm loudly that they are the disciples of Jesus. Their faith is not strong enough to withstand the violent winds that arise in their daily lives. Yet, they have the duty to preserve this faith in Jesus! That is what saint Paul reminds Timothy, in these words: "Guard the good treasure entrusted to you, with the help of the Holy Spirit living in us" (2 Tim 1, 14) .
Unfortunately, in the face of adversity we forget about our faith in Jesus. We can not stand firm because of the interests we have in this world that we do not want to lose. We change our language like chameleons in the midst of persecutions. Our faith in Jesus becomes sterile because it bears no fruit!
Beloved, if today you hear the voice of the Lord inviting you to have a faith rooted in Him harden not your heart. Amen
FRENCH VERSION
THEME: Seigneur, augmente ma foi
Bien-aimé(e)s la lettre aux hébreux nous dit que : « La foi est une façon de posséder ce que l'on espère, un moyen de connaître des réalités qu'on ne voit pas » (Heb 11, 1). Et c'est pour cela que Jésus nous dit dans l'évangile que : « Si vous aviez de la foi, gros comme une graine de moutarde, vous auriez dit à l'arbre que voici : 'déracine-toi et va te planter dans la mer', et il vous aurait obéi » (Lc 17, 6) Ceci veut dire que si nous sommes nourris d'une telle volonté alors quelque soient les obstacles qui se dresseront sur notre chemin nous avons la capacité de les surmonter en voyant déjà en elle des opportunités. En d'autres termes, l'idée que nous nous faisons d'une chose est exactement ce qui nous arrive ! La foi en Jésus devrait alors être un moyen pour nous de nous voir victorieux en toute circonstance car avec lui nous disent les Ecritures nous ferons des prouesses. C'est cette conviction qui fera notre force en tout temps et tout lieu et dans chaque situation de notre vie.
C'est pour avoir une telle conviction que les apôtres de Jésus lui disent : « Augmente en nous la foi » (Lc 17, 5). C'est, aussi, pour eux l'aveu de leur faiblesse, de leur manque d'endurance, de leur manque de patience et de leur difficulté à persévérer dans l'épreuve. Certes, ils croient en Jésus, mais pas assez pour tenir ferme jusqu'au bout de l'épreuve. Leur foi en Lui n'est pas assez solide pour affirmer haut et fort qu'ils sont les disciples de Jésus. Leur foi n'est pas assez forte pour résister aux vents violents qui surgissent dans leur vie au quotidien. Pourtant, ils ont le devoir de préserver cette foi en Jésus ! N'est ce pas ce que Saint Paul rappelle à Timothée, en ces termes : « Garde le dépôt de la foi dans toute sa beauté, avec l'aide de l'Esprit Saint qui habite en nous » (2 Tm 1, 14).
Hélas face à l'adversité nous diluons notre foi en Jésus. Nous ne parvenons pas à tenir ferme à cause des intérêts de ce monde que nous ne voulons pas perdre. Nous changeons de langage comme des caméléons devant les épreuves. Notre foi en Jésus devient donc stérile car elle ne porte aucun fruit !
Bien-aimé(e), si aujourd'hui tu entends la voix du Seigneur t'invitant à avoir une foi enracinée en Lui n'endurcis pas ton cœur. Amen