TWENTY NINTH SUNDAY IN ORDINARY TIME OF THE YEAR C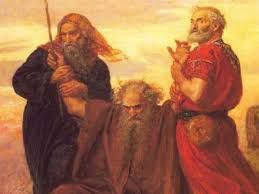 TEXTS: Ex 17, 8-13 / PS 120 (121), 1-8 / 2 Tm 3, 14; 4, 2 / Lk 18, 1-8
PREACHER: Rev. Fr. Martin KOTCHOFFA, SVD
THEME: Be the aid of your neighbor
Beloved, today we are invited to help our brothers and sisters who are in need. Araon and Hour quickly realized that Moses needed their help for the good of all the people. Because if Moses lowered his hands then Joshua will lose the war and all the people will suffer. The parable Jesus is proposing today is in line with this attitude with Aaron and Hour. Although this judge took a long time to fulfill the will of this widow, he finally realized that by doing justice to her, he would thus succeed in restoring order in society. He himself will have peace and harmony will return to society.
Beloved, whatever we do today will still have an impact on us tomorrow. And that is why we must always look at the merits of the help we need to bring to others and not the glory we can draw from it. If Aaron and Hour had thought of their own glory, they would never have helped Moses keep his hands high while Joshua was leading the war.
Unfortunately, in our present society, it is what we can draw from the situation that interests us and not the good it will bring to a multitude of people. As long as our name will not be cited as a hero then we cross our arms and are not ready to bring our contribution. It's so sad !
Beloved, one thing seems to us quite clear, God will never abandon us if we persevere. He will even be able to use the one that seems to hinder our blessing to answer us. Is it not what happened to this widow of the gospel? This same judge who was a blockage for her became through her insistence a source of blessing.
Beloved if today you hear the voice of the Lord who invites you to go to the aid of your neighbor, harden not your heart. Amen
FRENCH VERSION
THEME : Sois le soutien de ton prochain
Bien-aimé(e)s, aujourd'hui nous sommes invités à secourir nos frères et sœurs qui sont dans le besoin. Araon et Hour, ont vite compris que Moïse avait besoin de leur aide pour le bien-être de tout le peuple. Car si Moïse baissait les mains alors Josué perdra la guerre et c'est tout le peuple qui en souffrira. La parabole que Jésus nous propose aujourd'hui s'inscrit dans cette droite ligne. Même si ce juge a mis longtemps pour réaliser la volonté de cette veuve, il s'est finalement rendu compte qu'en lui faisant justice, il parviendrait ainsi à rétablir l'ordre dans la société. Lui-même aura la paix et l'harmonie reviendra dans la société.
Bien-aimé(e)s, l'acte que nous posons aujourd'hui a toujours un impact sur nous-mêmes. Et c'est pour cela qu'il nous faut toujours regarder le bien fondé de l'aide que nous devons apporter aux autres et non la gloire que nous pouvons en tirer. Si Aaron et Hour avaient pensé à leur propre gloire, ils n'auraient jamais aidé Moïse à garder les mains élevées tandis que Josué menait le combat.
Hélas, dans notre société actuelle, c'est ce que nous pouvons tirer de la situation qui nous intéresse et non le bien que cela apportera à toute une multitude de personnes. Tant que notre nom ne sera pas cité en héro alors nous croisons les bras et ne sommes pas prêts à apporter notre pierre à l'édifice. Souvent, on combat même de toutes nos forces les projets d'intérêt commun dont nous ne sommes pas les initiateurs. Que c'est triste !
Bien-aimé(e)s, une chose nous semble assez claire c'est Dieu ne nous abandonnerait jamais si nous persévérons. Il sera, même capable, d'utiliser celui qui semble faire obstacle à notre bénédiction pour nous répondre. N'est-ce pas ce qui arriva à cette veuve de l'évangile. Ce même juge qui était un blocage pour elle est devenue à travers son insistance une source de bénédiction.
Bien-aimé(e) si aujourd'hui tu entends la voix du Seigneur qui t'invite à voler au secours de ton prochain n'endurcis pas ton cœur. Amen