TWENTY EIGHTH SUNDAY IN ORDINARY TIME OF THE YEAR C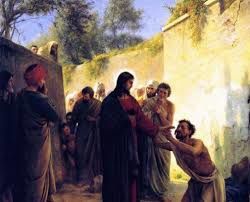 TEXTS: 2 Kg 5, 14-17 / Ps 97 (98), 1-4 / 2 Tm 2, 8-13 / Lk 17, 11-19
PREACHER: Rev. Fr. Martin KOTCHOFFA, SVD
THEME: Be grateful
Beloved, listening to the gospel's reading and especially to the remark of Jesus: "there were ten men who were healed; where are the other nine? "(Lk 17, 17), one will have the impression that Jesus begs for a " thank you " for the wonderful work accomplished in the life of these men who were suffering from leprosy. To tell the truth, that is not the case at all. And the common preface N ° 4 says it so well: "You have no need of our praise, ..., our praises add nothing to your greatness but profit us for salvation ". This means that the thanksgiving we render to God is for our own good. Because it symbolizes our generosity and our desire to act as God in the lives of others. Thanksgiving opens us the doors of blessing and salvation.
Naaman, the Syrian, understood it early. He came back to say thank you to the man of God, Elisha, and to his God. This act of Naaman brought to him blessing. He discovered a God who asks nothing in return. And this transforms him to the point that he can say: "I will not offer sacrifices or burnt offerings to any god except the Lord God of Israel" (2 Kings 5: 17). His thanksgiving opens his eyes to this God who was unknown to him. A God who is waiting for nothing but our closeness to Him, our slavation.
Thus, for Jesus the nine other cured men do not manifest the desire to come closer to God. And that made Him feel sorry for them. They do not choose the path of repentance but perseverance in darkness. Yet by granting them healing, Jesus pulled them from darkness to light. Only, this Samaritan, wished to remain in this light then he returns to the Light.
Beloved, many of us act like those nine ungrateful cured men! We are not able to show our gratitude for a good received. This ungratefulness often distances us from God and from our brothers and sisters who no longer have the strength and joy to help us.
Beloved, if you want to be blessed beyond your expectations then learn to be thankful at any time and any place.
Beloved, if today you hear the voice of the Lord inviting you to thanksgiving for every good received, do not harden your heart. Amen
FRENCH VERSION
THEME : Sois reconnaissant(e)
Bien-aimé(e)s, en écoutant l'évangile et surtout la remarque de Jésus : « Tous les dix n'ont-ils pas été purifiés ? Les neufs autres, où sont-ils ? » (Lc 17, 17), on aura l'impression que Jésus quémande un « merci » pour l'œuvre merveilleuse accomplie dans la vie de ces hommes qui souffraient de la lèpre. A vrai dire, pas du tout. Et la préface commune N° 4 le dit si bien : « Tu n'as pas besoin de notre louange, …, nos chants n'ajoutent rien à ce que tu es mais nous rapprochent de toi ». C'est dire que l'action de grâce que manifestons à Dieu est pour notre propre bien être. Puisqu'elle symbolise notre générosité et notre désir d'agir comme Dieu dans la vie des autres personnes. L'action de grâce nous ouvre donc les portes de la bénédiction.
Naaman, le syrien, l'a compris tôt. Il revient sur ses pas pour dire merci à l'homme de Dieu, Elisée, et à son Dieu. Cet acte de Naaman lui est retourné en bénédiction. Il découvre un Dieu qui ne demande rien en retour. Et cela le transforme au point qu'il puisse dire : « Je ne veux plus offrir ni holocauste ni sacrifice à d'autres dieux qu'au Seigneur Dieu d'Israël » (2 R 5, 17). Son action de grâce, lui ouvre les yeux sur ce Dieu qui lui était inconnu. Un Dieu qui n'attend rien d'autre que de nous voir nous rapprocher de lui.
Ainsi, pour Jésus les neuf autres ne manifestent point le désir de se rapprocher de Dieu. Et cela le désole. Ils ne choisissent pas le chemin de la repentance mais de la persévérance dans l'obscurité. Pourtant, en leur accordant la guérison, Jésus les a tiré de l'obscurité à la lumière. Seul, ce samaritain, a désiré demeurer dans cette lumière alors il revient à la source.
Bien-aimé(e)s, beaucoup d'entre nous agissent comme ces neuf ingrats anciens lépreux ! Nous ne sommes point capables de manifester notre reconnaissance pour un bien reçu. Cette ingratitude souvent nous éloigne non seulement de Dieu mais aussi de nos frères et sœurs qui n'ont plus la force et la joie de nous venir en aide.
Bien-aimé(e), si tu veux être béni au-delà de tes attentes alors apprends à être reconnaissant(e) en tout temps et tout lieu.
Bien-aimé(e) si aujourd'hui tu entends la voix du Seigneur t'invitant à l'action de grâce pour chaque bien reçu, n'endurcis pas ton cœur. AmenA