SEVENTEENTH SUNDAY IN ORDINARY TIME OF THE YEAR C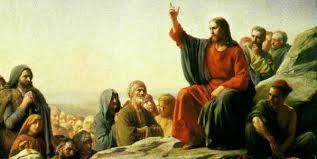 SEVENTEENTH SUNDAY IN ORDINARY TIME OF THE YEAR C
TEXTS: Gn 18, 20-32 / Ps 137 (138), 1-3. 6-8 / Col 2, 12-14 / Lk 11, 1-13
PREACHER: Rev. Fr. Martin KOTCHOFFA, SVD
THEME: Forgive
Beloved, a challenge today is thrown to us by our Lord Jesus: forgiveness to receive and to be given. Saint Paul tells us that God " has forgiven us all our trespasses. And he has put out the handwriting that was against us, contained in the written law: he has taken it out of the way and has fastened it to his cross" (Col 2, 13-14). It is a sign that God does not want the death of the sinners we are but our conversion. That is why in the bargain with Abraham God is ready to not destroy an entire city if he found only ten (10) just men. If God offers us his forgiveness it is for us to offer it to others. Hence, the importance of the Lord's Prayer: " forgive us our sins, for even we forgive every person that trespasses against us" (Lk 11: 4) .
Beloved, do you really succeed in forgiving others? If yes, how do you justify the fact that in our families, spouses do not talk to each other, children no longer speak to their parent? How to explain the fact that in our associations, religious communities, parishes, etc. brothers and sisters have vowed never to forgive those around them because they feel hurt forever?
If we wait for God's daily forgiveness then we should begin to forgive those who have hurt us willingly or not. This is the true path of healing and the means to benefit from God's mercy.
Beloved if today you hear the voice of the Lord inviting you to forgiveness and reconciliation, harden not your heart. Amen
FRENCH VERSION
THEME : Pardonne
Bien-aimé(e)s, un défi de taille nous est lancé aujourd'hui par notre Seigneur Jésus : le pardon à recevoir et à donner. Saint Paul nous dit que Dieu « nous a pardonné toutes nos fautes. Il a effacé le billet de la dette qui nous accablait en raison des prescriptions légales pesant sur nous : il l'a annulé en le à la croix » (Col 2, 13-14). C'est un signe que Dieu ne veut pas la mort des pécheurs que nous sommes mais notre conversion. N'est-ce pas pourquoi dans le marchandage avec Abraham il est prêt à ne point détruire toute une ville s'il y trouvait seulement que dix (10) justes. Si Dieu nous offre son pardon c'est pour que nous l'offrions aux autres. D'où l'importance de la prière du Notre Père que Jésus enseigne à ses disciples : « Pardonne-nous nos péchés, car nous-mêmes, nous pardonnons aussi à tus ceux qui ont des torts Aenvers nous » (Lc 11, 4).
Bien-aimé(e) parviens-tu véritablement à pardonner aux autres ? Si oui, comment justifier le fait que dans nos familles, les époux ne se parlent pas, les enfants n'adressent plus la parole à leur parent ? Comment expliquer le fait que dans nos associations, communautés religieuses, paroisses, etc. des frères et soeurs ont jurés ne jamais pardonner à ceux qui les entourent car se sentant blessés pour toujours ?
Si nous attendons de Dieu son pardon quotidien alors nous devrions commencer nous-mêmes par pardonner à ceux qui nous ont fait du mal volontairement ou non. C'est le véritable chemin de la guérison et le moyen de bénéficier de la miséricorde de Dieu.
Bien-aimé(e) si aujourd'hui tu entends la voix du Seigneur qui t'invite au pardon et à la réconciliation, n'endurcis pas ton cœur. Amen