FIFTEENTH SUNDAY IN ORDINARY TIME OF THE YEAR C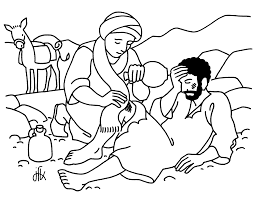 FIFTEENTH SUNDAY IN ORDINARY TIME OF THE YEAR C
TEXTS: Deut 30, 10-14 / Ps 68, 14. 17. 30-31. 33-34. 36ab. 37 or Ps 18b (19), 8-11 / Col 1, 15-20 / Lk 10, 25-37
PREACHER: Rev. Fr. Martin KOTCHOFFA, SVD
THEME: Love without counting
Beloved, God has given us His word to transform our lives. So we can transform the lives of others through it. The word that God gives us invites us to selfless love which is the summary of the entire Law but also the other name of God. It is therefore an invitation to become like God. Is it difficult to love as God does? Not at all! To love is at hand and God will never ask us anything which is above us. The law of love is a law that is inscribed in every human being. But the question is to know the interpretation we give to it. This is why Jesus asks doctor of the law: "In the Law, what is written? And how do you read? "(Lk 10, 26).
Beloved, although it is obvious that we all know that loving God and loving one's brother or sister is the path to harmonious life, our interpretation of how to accomplish this is different. This justifies the question of the Doctor of the Law: "And who is my neighbor? " (Lk 10, 29). In other words, who should I love? How to love him/her? And why should I love him/her? Is it not our attitude too? We often want to see in the word of God something unrealizable. Yet God tells us clearly in the first reading that: " No, the word is very near you; it is in your mouth and in your heart so you may obey it" (Deut 30, 14). It is for this reason that Jesus does not look far to tell the doctor of the law that the neighbor he must love is the one he meets every day on his way, near to him. It is the dying person who has no one, it is the abandoned and despised. It is the unknown, this stranger who knocks on his door. The neighbor is never far away, he is never the one we know very well or who is useful to us or who can pay us back! But he is the one to whom we do good without ever expecting anything in return. He is the one for whom we spend ourselves without counting but only to realize that we are doing the will of God.

Beloved (s) is it impossible to love in such way? In reality "NO". We need only a real and profound inner transformation and an infinite desire to fulfill the will of God. Beloved if today you hear the voice of the Lord inviting you to love without counting harden not your heart. Amen
FRENCH VERSION
THEME : Aime sans compter
Bien-aimé(e)s, Dieu nous a donné sa parole pour qu'elle transforme notre vie. Ainsi nous pourrons transformer la vie d'autres personnes grâce à elle. La parole que Dieu nous donne nous invite à l'amour désintéressé qui est non seulement le résumé de toute la Loi mais aussi et surtout l'autre nom de Dieu. C'est donc une invitation à devenir comme Dieu. Est-ce difficile d'aimer comme Dieu et profondément ? Assurément pas ! Aimer est à portée de main et d'ailleurs Dieu ne nous demandera jamais quelque chose qui soit au-dessus de nous. La loi de l'amour est une loi qui est inscrite en tout être humain. Mais la question est de savoir l'interprétation que nous lui donnons. Voilà pourquoi Jésus demande au docteur de la loi : « Dans la Loi, qu'y a-t-il d'écrit ? Et comment lis-tu ? » (Lc 10, 26).
Bien-aimé(e)s, même s'il est évident que nous savons tous qu'aimer Dieu et aimer son frère ou sa sœur est le chemin pour une vie harmonieuse, il n'en demeure pas moins que notre interprétation de la manière d'accomplir cela est différente. Ceci justifie la question du docteur de la Loi : « Et qui est mon prochain ? » (Lc 10, 29). En d'autres termes qui dois-je aimer ? Comment l'aimer ? Et pourquoi l'aimer ? N'est-ce pas souvent notre attitude à nous aussi ? Une telle attitude souvent vise à discréditer la parole de Dieu. On veut souvent voir en la parole de Dieu quelque chose d'utopique et d'irréalisable. Pourtant Dieu nous dit clairement dans la première lecture que : « Elle est tout près de toi, cette Parole, elle est dans ta bouche et dans ton cœur, afin que tu la mettes en pratique » (Dt 30, 14). C'est pour cela d'ailleurs que Jésus ne cherche pas loin pour dire au docteur de la loi que le prochain qu'il doit aimer est celui qu'il rencontre chaque jour sur son chemin, près de lui. C'est l'agonisant qui n'a personne, c'est l'abandonné et le méprisé. C'est l'inconnu, cet étranger qui frappe à sa porte. Le prochain n'est jamais loin, il n'est jamais celui-là qu'on connaît très bien oubien qui nous est utile oubien qui peut nous retourner la monnaie de notre pièce ! Mais il est celui/celle à qui nous faisons du bien sans jamais rien attendre en retour. C'est celui/celle pour qui nous nous dépensons sans compter, que celle de savoir que nous ne faisons que la volonté de Dieu.
Bien-aimé(e)s est ce impossible de vivre de l'amour ainsi ? En réalité « NON ». Il nous faut seulement une réelle et profonde transformation intérieure et un désir infini d'accomplir la volonté de Dieu.
Bien-aimé(e) si aujourd'hui tu entends la voix du Seigneur t'invitant à aimer sans compter n'endurcis pas ton cœur. Amen