SOLEMNITY OF THE PENTECOTE OF THE YEAR C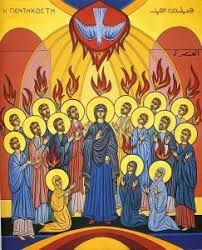 TEXTS: Ac 2, 1-11 / Ps 103 (104), 1ab. 24aB. 29bc -31. 34 / Rm 8, 8-17 / Jn 14, 15-16. 23b-26
PREACHER: Rev. Fr. Martin KOTCHOFFA, SVD
THEME: A new departure
Beloved, today we celebrate the solemnity of the Pentecost that marks the birth of the Church. It is actually the beginning of a new era for the disciples, an era of witnessing and living according to the Spirit of the Lord.
That is why Saint Paul tells us in the second reading, "You are not under the control of the flesh but of the Spirit, since the Spirit of God dwells in you" (Rom 8: 9). And if the Spirit of God dwells in us then our life must be that of the Spirit of God, that is, a life inspired by Him. Such a life always manifests itself in the light and is attached to Christ whatever the difficulties.
Today therefore begins for us a new life, the old world is already gone. Our world of fear, anguish, malice, envy, jealousy, idolatry, scorn, hatred, etc. It is therefore an invitation to account now for our hope in Christ our Lord. Is it not what the apostles of the Lord did in the first reading? They came out of their fear because of the Spirit of God who dwells in them and began to proclaim the wonders of God. They, who were afraid of the Jews, they came out in broad daylight to affirm their belonging to Christ.
This experience of the apostles reveals to us that when the Spirit of God dwells in us then persecutions or difficulties do not frighten us anymore. For the paraclete will put on our lips the proper words against the persecutors. This is what Jesus promises his disciples "I will pray the Father and he will give you another Defender who will be with you forever" (Jn 14:16).
Beloved, are you open to this new beginning? Are you ready for this new era with the Spirit of God?
Beloved, if today you hear the voice of the Lord inviting you to be flooded by the Spirit of God for a new departure, harden not your heart. Amen
FRENCH VERSION
THEME: Un départ nouveau
Bien-aimé(e)s aujourd'hui nous célébrons la solennité de la pentecôte qui marque la naissance de l'Eglise. C'est à vrai dire un début d'une ère nouvelle pour les disciples, une ère de témoignage et de vie selon l'Esprit du Seigneur.
C'est pourquoi saint Paul nous dit dans la deuxième lecture « vous n'êtes pas sous l'emprise de la chair mais sous celle de l'Esprit, puisque l'Esprit de Dieu habite en vous » (Rm 8, 9). Et si l'Esprit de Dieu habite en nous alors notre vie doit être celle de l'Esprit de Dieu c'est-à-dire une vie inspirée par Lui. Une telle vie se manifeste toujours à la lumière et est attachée au Christ quelques soient les difficultés.
Aujourd'hui donc commence pour nous une vie nouvelle, le monde ancien est déjà parti. Notre monde de peur, d'angoisse, de méchanceté, d'envie, de jalousie, d'idolâtrie, de mépris, de haine, etc. C'est donc une invitation à rendre compte désormais de notre espérance dans le Christ notre Seigneur. N'est-ce pas ce que firent les apôtres du Seigneur dans la première lecture ? Ils sortirent de leur peur grâce à l'Esprit de Dieu qui habite en eux et se mirent à proclamer les merveilles de Dieu. Eux qui avaient peur des juifs, les voici sortis en plein jour pour affirmer leur appartenance au Christ.
Cette expérience des apôtres nous révèle que quand l'Esprit de Dieu habite en nous alors les persécutions ou difficultés ne nous effraient plus. Car le paraclet mettra sur nos lèvres les paroles idoines face aux persécuteurs. C'est d'ailleurs ce que Jésus promet à ses disciples « Moi, je prierai le Père et il vous donnera un autre Défenseur qui sera pour toujours avec vous » (Jn 14, 16).
Bien-aimé(e) es-tu ouvert(e) à ce nouveau départ ? Es-tu disposé(e) pour cette ère nouvelle avec l'Esprit de Dieu ?
Bien-aimé(e) si aujourd'hui tu entends la voix du Seigneur t'invitant à te laisser inonder par l'Esprit de Dieu pour un départ nouveau n'endurcis pas ton cœur. Amen