SEVENTH SUNDAY OF EASTER C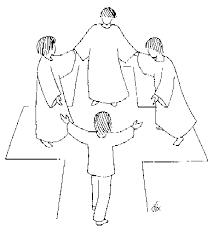 TEXTS: Ac 7, 55-60 / Ps 96 (97), 1-2. 6-7. 9 / Ap 22, 12-14. 16-17. 20 / Jn 17, 20-26
PREACHER : Rev. Fr. Martin KOTCHOFFA, SVD
THEME: Do not give up
Beloved in the Lord on this seventh Sunday of Easter, the prayer of Jesus addressed to his Father so that his disciples may be One, is an invitation for each one of us to never give up our Christian life.
Jesus is aware that after His departure His disciples will be exposed to all sorts of trials that will probably scatter them. He therefore asks his Father to keep them truly united. Thus the persecutions and difficulties they will encounter will become opportunities for them to strengthen their union with Christ in whom they put their hope. In other words, even if some of them must witness to the blood, it should become for others a reason to render an account for their hope in Christ. Is it not why Tertullian said that "the blood of martyrs is the seed of Christians".
A good example is given in the first reading. Stephen suffers persecution until death. But instead of discouraging and dislocating other disciples, it seems that this has led them to testify more of their hope in Jesus. Thus, the blood which is shed because of the Gospel unites the Christians more and gives them a renewed zeal in their daily life of testimony.
Beloved, does the persecution that others suffer in the name of Christ keep you firmly united with them and firm in your faith? or are you discouraged?
Together, we will succeed in spreading the message of Christ even in the midst of all the trials that we are going through collectively and individually. Jesus therefore gives us a message of hope and encouragement. It is therefore up to us to open ourselves to this message and to leave no difficulty turns us away from the ways of Christ.
Beloved if today you hear the voice of the Lord inviting you not to give up your Christian life but to remain united to others in the faith harden not your heart. Amen
FRENCH VERSION
THEME: N'abandonnez pas
Bien-aimé(e)s dans le Seigneur en ce septième dimanche de pâques la prière de Jésus adressée à son Père afin que ses disciples soient Un, est une invitation pour chacun de nous à ne jamais abandonner.
Jésus est conscient qu'après son départ ses disciples seront exposés à toutes sortes d'épreuves qui probablement les disperseront. Il demande donc à son Père de les garder véritablement unis les uns et autres. Ainsi les persécutions et difficultés qu'ils rencontreront deviendront des opportunités pour eux de renforcer et affermir leur union au Christ en qui ils ont mis leur espoir. Autrement dit, même si quelques-uns doivent aller jusqu'au témoignage du sang que cela devienne pour les autres un motif pour ensemble rendre compte de leur espérance dans le Christ. N'est-ce pas pourquoi Tertullien a dit que «le sang des martyrs est semence de chrétiens ».
Un bel exemple nous est donné dans la première lecture. Etienne subit la persécution jusqu'à la mort. Mais au lieu que cela décourage les autres disciples et les disloque, il semble que cela les a poussés à témoigner davantage de leur espérance en Jésus. Ainsi le sang qui est versé à cause de l'Evangile unit davantage les chrétiens et fait naître en eux un zèle renouvelé dans leur témoignage de chaque jour.
Bien-aimé(e) est ce que la persécution que les autres subissent au nom du Christ te pousse à rester fermement uni à eux et ferme dans la foi ? Oubien es-tu découragé ?
C'est ensemble que nous parviendrons à propager le message du Christ même au cœur de toutes les épreuves que nous traversons collectivement et individuellement. Jésus donc nous donne un message d'espoir aujourd'hui et d'encouragement. Il nous appartient donc de nous ouvrir à ce message et à ne laisser aucune difficulté nous détourner des chemins du Christ.
Bien-aimé(e) si aujourd'hui tu entends la voix du Seigneur t'invitant à ne point abandonner ta vie chrétienne mais à rester uni aux autres dans la foi n'endurcis pas ton cœur. Amen