ELEVENTH SUNDAY IN ORDINARY TIME OF THE YEAR C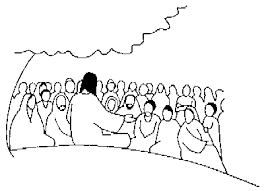 TEXTS: Wis 8, 22-31 / Ps 8, 4-9 / Rom 5, 1-5 / Jn 16, 12-15
PREACHER: Rev. Fr. Martin KOTCHOFFA, SVD
THEME: Come, Spirit of Truth
Beloved today Jesus assures his disciples of the coming of the Spirit of Truth who will "lead them into the whole truth". This implies an opening on their part to the Spirit of truth in order to know and live in the truth. And we, who are today his disciples, are called to such an opening so that the world sees in us the light of Christ. The question is, are we willing to accept the Spirit of truth?
It is sad to see that we live in a world where truth is erected in lies and lies in truth. And the worst part is that Christians who have to set a good example are often the promoters of lies into truth. It is heartbroken to see men and women, so-called disciples of Christ, publicly living in lies and spreading them. Such attitudes often make it difficult for Christian witnesses to impact positively the world.
Beloved we are in the world but we do not belong to the world! Thus, it is essential to reveal the characteristics of the world to which we belong: the kingdom of heaven. And that is why Jesus invites us to open ourselves to welcome the Spirit of truth in our life. So before opening our mouth to speak we will let the Spirit of truth enlighten us. And if what we have to say is not more beautiful than silence, the Spirit of truth will invite us to silence.
Beloved, if today you hear the voice of the Lord inviting you to open your heart to welcome the Spirit of truth, harden not your heart. Amen
FRENCH VERSION
THEME : Viens Esprit de vérité
Bien-aimé(e)s aujourd'hui Jésus rassure ses disciples de la présence prochaine de l'Esprit de vérité qui les « conduira dans la vérité tout entière ». Cela suppose une ouverture de leur part à l'Esprit de vérité afin de connaître et de vivre dans la vérité. Et nous, qui sommes aujourd'hui ses disciples, sommes donc appelés à une telle ouverture afin que le monde voie en nous la lumière du Christ. La question est de savoir si nous sommes disposés à accueillir l'Esprit de vérité ?
Il est triste de voir que nous vivons dans un monde où la vérité est érigée en mensonge et le mensonge est vérité. Et le comble c'est que les chrétiens qui doivent montrer le bon exemple sont souvent les promoteurs du mensonge en vérité. C'est aberrant de voir des hommes et femmes, soi-disant disciples du Christ, vivre publiquement dans le mensonge et le propager. De telles attitudes rendent souvent difficile l'impact du témoignage chrétien dans le monde.
Bien-aimé(e)s nous sommes dans le monde mais nous n'appartenons pas au monde ! Ainsi il est capital de révéler les caractéristiques du monde auquel nous appartenons : le royaume des cieux. Et c'est pour cela que Jésus nous invite à nous ouvrir pour accueillir l'Esprit de vérité dans notre vie. Ainsi donc avant d'ouvrir notre bouche pour parler nous laisserons l'Esprit de vérité nous éclairer. Et si ce que nous avons à dire n'est pas plus beau que le silence, l'Esprit de vérité, nous invitera au silence.
Bien-aimé(e) si aujourd'hui tu entends la voix du Seigneur qui t'invite à ouvrir ton cœur pour accueillir l'Esprit de vérité n'endurcis pas ton cœur. Amen